Do you want to boost an existing commercial building's rents and capital value?
If so, you can't afford to miss today's interview with London architect, Graham West.
Graham is the founder of West Architecture.
And he's an expert at spotting simple ways to turn dull retail and office buildings into spaces people LOVE.
Listen to our conversation now and you'll learn…
How he revamps commercial buildings (without spending crazy amounts of money).
How he's transformed a run-down Brutalist property into a celebrated East End destination.
How he's activating the roof of an unloved office tower.
And MUCH more.
Listen now on the player (or read the transcript below)…
Liked this interview with Graham? Please leave a review by clicking here (then scrolling to the bottom of the page). Even one sentence would be great.
Transcript:
Note: this has been lightly edited to improve clarity and readability.
[Tim Benjamin] Hi there – you're listening to the Floorplate podcast – the place where successful commercial property owners, developers and the people who help them, tell you how they built their businesses.
I'm Tim Benjamin, a commercial property developer based in London.
Coming up on today's show…
[Graham West] It had been let go.
It was stained by being on a dirty intersection in that part of Hackney.
And ugly in the sense that it offered nothing to the corner which is kind of a gateway to the hinterland that is Hackney Broadway Market and could be a better part of the urban fabric.
[Tim Benjamin] That's London architect, Graham West on taking a run-down Brutalist office building in London's Hackney and turning it into a food destination.
As you're about to learn, Graham has a load of experience working with developers to breathe new life into tired commercial buildings.
When we sat down recently in his Islington studio, I started by asking him how he got into architecture in the first place…
[Graham West] I got into architecture in a back to front way in that I had never really been interested in architecture – I hadn't discovered architecture at school – and it just wasn't on my radar at all.
I left school and did an OND – so this is going quite a long way back – an OND in electronics and computing.
And worked sort of in that field for a bit.
And then a job came up at Ove Arup & Partners who were starting to develop their own CAD system.
This is the very early days of CAD, and Ove Arup were developing their own system in house.
And they felt it was so complicated they were looking for people with a computing background – an electronics background – to be part of the team to work on that system.
Not work on developing the system, but work on using that system.
So I became one of the CAD technicians in the engineering group at Ove Arup in Bristol working on engineering drawings.
And it was through that I started to develop an interest in drawings – particularly the architectural drawings that we were using or working from.
And then an interest in the end product, in the building itself.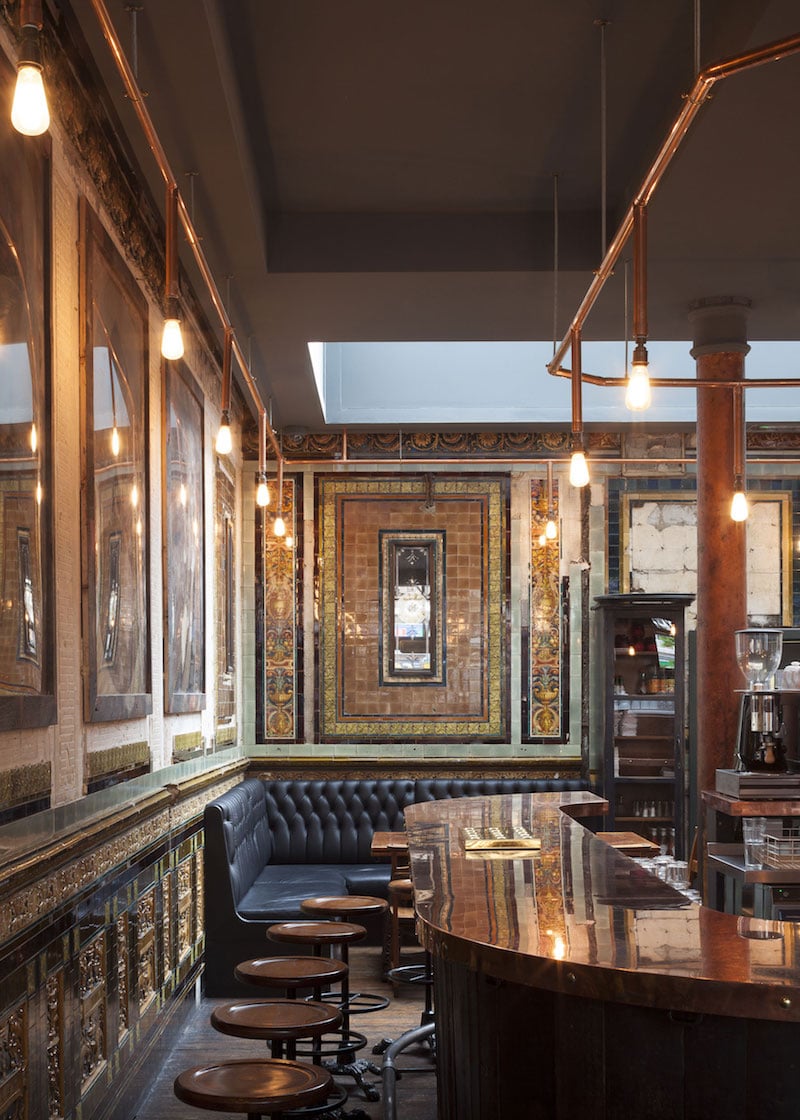 [Tim Benjamin] And what was it about architectural drawings that captured your attention?
[Graham West] I guess it was the ability to translate spatial consequences into a drawing.
And to work on that drawing.
And to then see the end product which I was lucky enough to be able to see because I was working on live projects.
And, specifically, although I am interested in detail, I think it was the fact that what you saw on the drawing was what was going to be built.
And the spaces that were going to be created.
And that was really something new for me.
And I was at Ove Arup & Partners over the course of about three years.
And, while I was there, I took A-Level Art in the evenings.
I was massively supported by Arups.
They were very supportive even though I wasn't going to become an architect – I was going to become an engineer.
And I did A-Level art in the evenings – and that helped me get into a polytechnic (as they were then) with virtually no academic qualifications – but with a genuine portfolio and an Art qualification by then – A-Level Art.
And that got me into a polytechnic which, obviously, is now a university.
[Tim Benjamin] Which university or polytechnic?
[Graham West] It was Leeds Metropolitan University – they had a very positive take on my kind of experience and portfolio.
It was by no means a done-deal that I was going to get into a polytechnic.
I was still lacking in professional qualifications.
So, as I say, Leeds was very positive.
I also felt like I wanted to get geographically away from Bristol which is where I was living.
[Tim Benjamin] Are you from Bristol originally?
[Graham West] I am – but I have family up north in Yorkshire – so it's good to go back there as well as I'd always loved Yorkshire.
So, that got me to Leeds.
And then after being in Leeds for three years and doing my degree, I decided – I felt – it was all happening in London so I did my diploma at what was then North London Polytechnic which is now the CASS – and previously London Metropolitan University.
[Tim Benjamin] So you moved down to London.
You continue studying.
How did you find living in London for that period?
[Graham West] Oh great.
I was very fortunate with where we lived – so very close to where we are now this moment actually. Living in Islington, near Highbury.
The School of Architecture is literally just on the other side of Highbury Fields.
So it's all within this radius.
I loved studying in London.
The cross-fertilisation of schools.
Going to lectures. Going to events.
One of the reasons it's still great to have a practice in London.
[Tim Benjamin] So you finish off your studies here in London. What happens next?
[Graham West] I left London Met – or North London as it was – worked for four years at a practice called The Manser Practice working on a series of hotels.
And then on smaller projects alongside Michael Manser – The Manser Practice was originally formed by Michael Manser – and is now run by his son, Jonathan Manser.
But I was working alongside Michael on some smaller projects.
And from there I went to a practice close to here called Patel Taylor which, it's probably fair to say, was a bit more design-led maybe than some of the work I was doing at Manser's at the time.
[Tim Benjamin] What do you mean by that?
[Graham West] Exactly that, really.
It had a much stronger emphasis on design from the outset.
And it was something I was very interested in.
Manser's was a great finishing school in that everybody who came in straight from college was given responsibility straight away.
I mean proper responsibility to deliver packages right the way through to completion on-site and then obviously buildings as well.
And I think it was a really – it was great for me because having come from quite a pragmatic background it allowed me then to straight away put into effect what I had learnt at university.
Whereas – going back to Patel Taylor – it was a bit quieter in terms of the architecture they produced – still very rich detailing – but I was definitely sort of part of delivery within that practice.
You know – I was part of the team that delivered projects.
[Tim Benjamin] And what kind of projects were you working on at that second practice?
[Graham West] If I think backwards, the last project I worked on was some swing bridges in Canary Wharf which were very engineering biased – so that was playing to my past as well.
They're still there – they're basically fully enclosed swing bridges that link one part of Canary Wharf to another.
Primarily the new Barclays headquarters back to all the pedestrian infrastructure within Canary Wharf.
I worked on a house – a huge extension in Oxford – which was beautifully detailed.
I was just a package architect on that – but the attention to detail was phenomenal on that project – and kind of really opened my eyes.
And then even into frameworks for urban planning in Ashton-under-Lyne.
I worked for English Partnerships on some of the plots that they were buying off the Ministry of Defense – frameworks for how they were going to be converted to residential plots.
Large-scale plots – we're talking big areas.
So, a real broad-brush going from incredibly tight detailing to frameworks for urban master plans.
So a very interesting period.
But then also ending up delivering quite complicated projects in Canary Wharf for large stakeholder groups.
[Tim Benjamin] So, you did that for a number of years?
[Graham West] I guess I did that for eight years in practice – pretty much four years in each practice.
And then I got to a point at Patel Taylor where I felt I wanted a new challenge – and I didn't know what that new challenge was at the time.
I hadn't always planned to start my own practice.
And while I was looking for that new challenge, a friend-of-a-friend asked me if I wanted to do a project for them which was one of our first projects which was a – it was a really really small scheme.
And he'd bought a space in a former Methodist church in north London and he wanted to create more space in it for him.
It was where he lived and worked.
And that extra space was the creation of a mezzanine which was our first project.
[Tim Benjamin] So did he come to you whilst you were still an employee?
[Graham West] I was working through my notice, so I'd handed in my notice – because it was a fairly long notice period – without having a clear view on where I was going to go.
I had options – but that came at me at that point.
[Tim Benjamin] And had you had an entrepreneurial inkling before then?
[Graham West] Not really.
I'd had a number of interviews at practices I wanted to go to that had offered me places that I was seriously considering taking.
I had no real drive at that point to do my own practice.
But one project I missed out at Manser's which was probably the best for me – a real eye opener – was I worked from conception through to completion as project architect.
And that was a fashion center on the Isle of Wight for a fashion company that was converted from some agricultural buildings – essentially in the middle of a field on the Isle of Wight.
And that, for me, was a real eye-opener because it was the first time that I had done absolutely everything on a project – with a group of other people as well – but I'd been architect on it from the beginning to the end.
And I guess that for me was the beginning of the bug for wanting to deliver projects right the way through.
And, I guess, when it came back to starting my own practice, that's what I was really interested in – the fact that I would have more control over what I was doing – and the role I'd be playing in it.
Rather than dropping in late on projects, to deliver them for somebody else who's conceived it, which was beginning to happen.
[Tim Benjamin] So setting up your own practice was more about that opportunity to be there from start to finish on a project than about scratching an entrepreneurial bug?
[Graham West] I think so.
It's about having full control over the end product.
I think that was the most important thing.
And that's what came out of that.
And so I took that project.
That was a really good project for me as a practice starting up because it was a very photogenic project, it was a one-liner which always goes down well.
It's very legible as to what that project is.
And to how the solution worked and how we overcame the constraints and how we used the constraints.
And so it helped me formulate my own approach in some respects.
Hopefully you can see that narrative in some of our more recent projects.
In terms of publicity, it did well because it was a very legible one-liner.
It didn't set out to be.
It set out to be the best solution to that project.
But the bi-product was that it did start to generate more work – and more interest in the practice.
[Tim Benjamin] So people were cold-calling you out the back of this project?
[Graham West] I don't know if you ever really get cold calls.
You get word-of-mouth.
Even publicity doesn't really…it reassures people.
This is my experience of it.
But it doesn't necessarily immediately generate a new client.
You can always re-trace clients through personal connections.
To somebody who knew that project or the previous client.
That's how it seems to happen from my side.
It was more about generating new clients who knew that project or knew that client.
And using the publicity as a form of reassurance – bearing in mind this was also just before the recession at the end of 2008, so we were going to go into a bit of a dip as well in which certain parts of the residential sector are always impervious to recession.
[Tim Benjamin] So how did you experience the recession?
[Graham West] One of the clients who came through a personal connection with the client on the first project was – there was a Swedish connection there – they operated and ran – and still do – a number of bars and restaurants in London.
And we took on a role for them.
We had this backbone of work that was commercial work in an executive role.
So, not necessarily design, but helping to deliver projects through getting permissions.
So statutory permissions such as buildings regs, planning, licensing, to turn around commercial sites that potentially were failing because of the economic climate – and turn them into something more fit for purpose.
They have a knack for knowing why a site wasn't working – and why it would work.
And who they should be trying to attract.
And so we turned around a number of sites during this period.
[Tim Benjamin] And just to be clear, this particular client was a property owner or a retail operator?
[Graham West] They're operators who at that time predominately were taking on leases on buildings.
And they've since starting taking on more freeholds.
[Tim Benjamin] And why did they come to you? Had you previous experience working on retail spaces?
[Graham West] Not really.
By recommendation through contacts through the first client on the mezzanine.
They knew they needed an architect.
We did have to overcome some building reg restraints on the first project but no planning was involved.
Obviously no licensing. It just kind of happened.
To some extent I – and then we – learnt on the job about overcoming these constraints.
And it's something we still do now in the background.
We're very hands-on.
I have a very strong connection with our approved inspectors for building regs and planning.
We've had our planning failures like everybody else.
But in terms of those projects, we had a good run of getting things through.
[Tim Benjamin] And just to be clear, what kind of retail are you talking about?
[Graham West] Bars and restaurants. Around London.
[Tim Benjamin] Which bring quite a degree of complexity.
You've got issues around fire safety, disabled access, etc.
[Graham West] Yeah exactly – fire safety, means of escape, separation, licensing, planning, in some cases listed building consent.
So those were the first listed buildings that we worked on.
We worked on one in Bethnal Green that had been a pub.
And we got change of use back to a pub from a leather wholesalers, which it had been used as, in an area that was saturated with licensed premises where no more licenses and change of use for bars and restaurants was being granted because of it's historic use.
And because it had been built as a pub – a Victorian pub – and it was also listed.
And that, for me, made it a much more interesting project.
The constrains of the listed building consent made it a much better end result as well because the client had to go down a certain route in terms of design and, for me, that made it a more interesting project.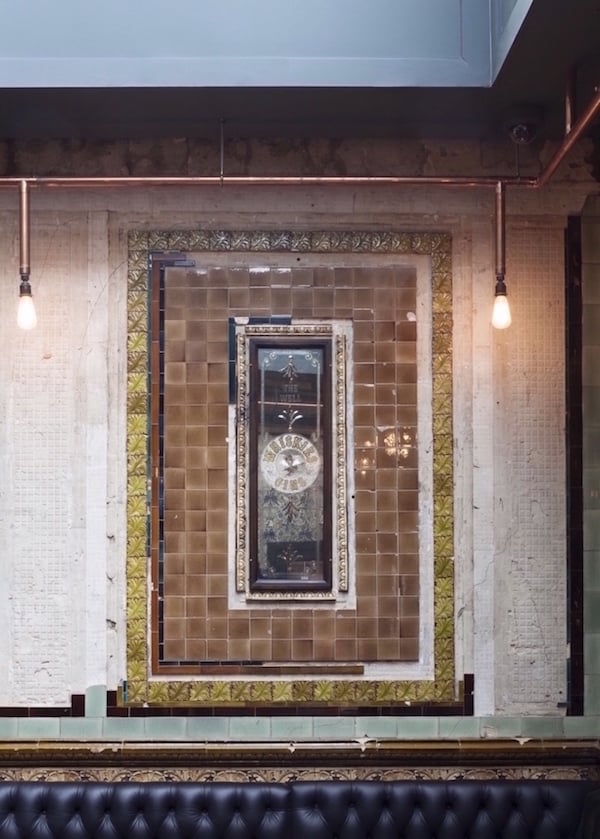 [Tim Benjamin] Why?
[Graham West] Because it had a stronger connection with its history.
Some bar fit-outs can be very transitory – and can obliterate the host building – whereas this had to definitely respect it.
Of those projects we did for the client at that time, it's the only one we put forward as a real project.
The rest are just a time-line of us working for our client delivering their projects.
And getting a good end result in terms of statutory approvals.
[Tim Benjamin] So just staying with that particular project for a moment, was the original intent to create a bar environment that didn't necessarily make particular use of the structure in which it sat?
[Graham West] It could easily have gone that way because a lot had.
The clients, on all their previous projects, had a strong idea of design and the end result.
And, perhaps, it's not the same idea we would have had.
Whereas on the one in Bethnal Green – it's the Well & Bucket on Bethnal Green Road – the planning and listed building consents kind of forced their hand.
And we had a much stronger role.
As an architect, you can interpret that listed building consent – and deliver something that the client wants but also still fulfills the listed building consent.
[Tim Benjamin] From my own experience working with old buildings, trying to get approval for fire safety plans, that can be a really big challenge.
With a project like that, how did you manage to square the reality of a building that was clearly over one hundred years old with today's fire regulations?
[Graham West] The first thing you do is you build a really good relationship with an approved inspector.
This isn't news.
And you take that approved inspector from project to project rather than renewing the relationship with each borough each time.
And you take that individual from project to project.
So there is a kind of shorthand between what you know they expect – and how you're going to communicate that.
And who does what within that relationship.
Who is designer – and who has a design role – but who can offer advice on design.
That comes down to having a good relationship with an approved inspector.
It's actually quite simple if you distil it down to what needs to be done.
It can literally be about how a door is handled.
Or – obviously – there's separation which is quite simple.
It doesn't have to be complicated.
This is a pub that's on the ground floor of a house – it's an HMO essentially above – so we had to address how there's a shared means of escape for both.
That was probably the most complicated aspect of it.
But actually, it's not complicated.
By then, we'd probably done about ten similar venues.
And the fact that it was listed in this case didn't really make much impact.
We had certain criteria to achieve on the shopfront.
But we worked within that.
[Tim Benjamin] For someone who is an owner of commercial property, particularly older commercial property, if they're looking around for properties on the market for example, and they've got broad ideas of – perhaps – looking to change the use of some of these buildings, perhaps install retail.
Or apply for liquor licenses, etc.
Are there certain red flags that you can spot instantly when you look at a building that perhaps has not historically been used for that purpose?
[Graham West] The last question you asked was licensing.
As a developer – or as an operator – maybe you shy away from those listed buildings because they're a hassle.
And they're restrictive.
But – as I touched on before – on this project, the very fact that we were able to get licensing and able to get change of use back to a pub was purely because it was listed.
And the reason it was listed was because it had been a historic pub.
Maybe slightly naively, the client bought into that.
But we soon realized that.
And on that particular project, we agreed with the landlord that nothing would be signed until we had been through a formal pre-app on the change of use.
[Tim Benjamin] That no lease would be signed?
[Graham West] Yep – so we had a pretty good heads-up within that time frame.
So everything was held until that moment when we were given a pretty good heads-up in the formal pre-app by Tower Hamlets that we were going to get licensing and change of use.
Definitely in that case, the constraints worked in our favor.
They no longer were constraints.
With a listed building, it's more about the physical plan that you're allowed, because obviously with listed buildings you're sometimes restricted about not moving doors, not moving walls, not moving staircases.
That's probably the more restrictive element for operators because it starts to dictate your floorplate.
Listed building constraint is always going to have to listen to a means of escape.
And the pragmatics of fire.
It can work against you.
But it can also work in your favour.
But it's going to affect the design more than it effects your discussions with statutory authorities.
[Tim Benjamin] So that particular project, the pub in the East End of London – that was roughly ten years ago – at a time when the practice was relatively new?
[Graham West] Maybe not ten years ago that one – maybe about seven years ago.
But it was probably just over ten years ago since we got that client.
By then we'd got a good working relationship with them so I think the Well & Bucket was about seven years ago.
[Tim Benjamin] And since then, have you continued to do commercial projects?
[Graham West] With the same client we recently did what is now known as Mare Street Market which was Hackney Council offices on Mare Street.
Quite an ugly building on a prominent corner that really turned its back on that corner.
[Tim Benjamin] When you say 'ugly' building, what sort of ugly are you talking about?
[Graham West] 'Ugly' is obviously subjective isn't it?
Ugly in the sense that it had been let go.
It was stained by being on a dirty intersection in that part of Hackney.
And ugly in the sense that it offered nothing to the corner – the corner which is kind of a gateway to the hinterland of Hackney Broadway Market – and could be a better part of the urban fabric than it was at the time.
So, part of our proposals were – which is kind of obvious if you're going to turn the ground floor into a commercial premises – and a food and beverage premises – part of our proposal was to put the doors on the corner.
Pretty obvious.
Apart from enlivening and engaging the ground floor, it offers something on an urban scale.
And it becomes more of a gateway building to what's beyond.
And that helped us in planning as well in terms of an incentive.
Because we were looking for change of use.
[Tim Benjamin] What had the ground floor previously been used for?
[Graham West] Offices.
The whole building was offices for Hackney with public-facing services on the ground floor – essentially a drop-in center – which has now re-located to other newer buildings around Hackney.
The contentious element here was change of use from an office to something which had much more of an emphasis on food and beverage – and licensing again.
It's in a commercial priority zone – they're trying to encourage office space in this area.
But the realized that what was being offered on a larger scale worked for this building.
And the upper floors were all taken by WeWork.
And the idea was that the ground floor uses dovetailed into the WeWork uses above.
There's a definite symbiotic relationship there.
You can take meetings downstairs. You can touchdown on the ground floor.
That helped us through planning in that case.
It wasn't just West Architecture doing the planning.
We had CBRE onboard as planning consultants.
It was a robust planning application.
Acoustics were a big part of it so we had to take mechanical design through to quite a detailed level in order to get the acoustic reports – and understand what was going on on the roof.
And the decibel impact of what was going on on the roof.
As far as those clients are concerned, it was probably the most involved – and robust – planning application that we've done.
[Tim Benjamin] I now know the building you're talking about.
It's a Brutalist building, correct?
[Graham West] Yeah – it's not helped by the colour of the brick which was polluted.
The windows – all the Crittall Windows – which have since been replaced.
It's just like one of many other buildings in that part of Hackney.
But it didn't offer anything to the streets.
The windows were all way above eye level.
It just didn't engage with the street at all.
[Tim Benjamin] So what is the trick to taking a building like that – an ugly duckling – in potentially a fantastic location – and making it something that people – that tenants – want to take leases in – that their customers want to be a part of?
[Graham West] One of the things we proposed was to lower the window sills onto Mare Street.
So, immediately, there's an active frontage onto the street.
You can see from the street what's happening inside that building.
Clearly, putting doors on the corner was a no-brainer.
And just bringing people in off that corner.
A Second Home has just appeared across the road.
It's definitely changing that area.
It took quite a long time to get planning for all that to go through.
This was a long time before there was any hint of something like Second Home arriving there as well.
And it's about creating transparency.
And a visual engagement with what's going on inside.
And I think that's it.
In the case of that project, it's as simple as that.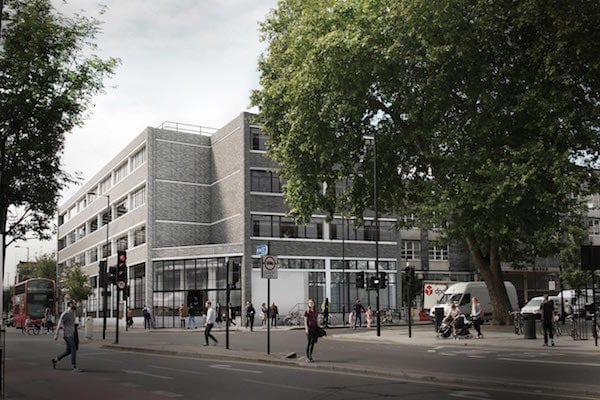 [Tim Benjamin] If you look at that project, I think a lot of people – landlords in particular – their first thought when looking at a site like that would have been 'tear it down and start again'.
[Graham West] That would have been completely inappropriate because – first of all – in terms of planning – I don't think you would have got anything bigger on that site – in terms of height.
And it's actually a really good building.
All the risers were there.
All the floor heights were there.
All the zones were there.
So it's fair to say that with a fairly light touch, you could convert a dog of a building back into something.
I've been up for a meeting in the WeWork above.
And it is WeWork – but it's completely up-to-date office space.
And it totally works in that building as well.
You only need to do something decent with the windows – and sort out the internal infrastructure – and you've got a really good building: shallow floor plates. Light coming in from a light well at the back.
It's a great building.
[Tim Benjamin] And all those interventions, of course, could be done at a fraction of the cost of tearing it down and putting something new in its place.
[Graham West] Yeah – and tearing it down, getting rid of it, bringing something in, building that.
And obviously with a much lower carbon footprint.
[Tim Benjamin] Out of interest, how difficult is it with a building like that to start cutting new windows into existing – and often very thick – walls?
[Graham West] On that building specifically it was fairly easy because it's essentially a concrete structure with in-fill brickwork panels.
So you can cut them out.
If you imaging you're dropping a sill, on any project that's just about the easiest thing you can do because the structure is already there.
It's a problem if you go up with an opening – it's never a problem to go down.
You're just re-using the same lintels and the same support structure.
It's pretty straightforward – particularly in that project all the same cores are still used.
There's no holes in slabs.
There's no new staircases – the staircase is perfectly adequate. It's not a thing of beauty but it works perfectly.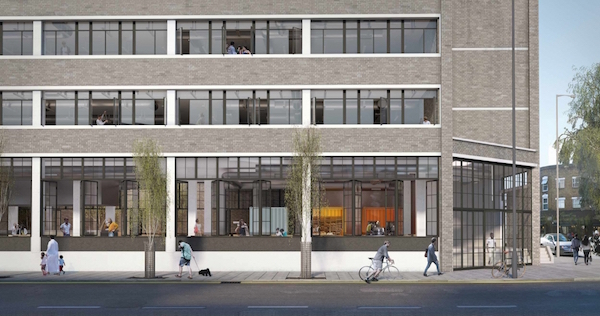 [Tim Benjamin] So a pretty dramatic transformation with a relatively light touch.
So that's one of your commercial projects from the last couple of years. What other things have you been working on?
[Graham West] We're doing a similar project for a different client in Brixton which is again a council-owned building – it's Lambeth Council – it did function as their offices.
And they also have moved. So they've got this building that has a 'meanwhile' use.
[Tim Benjamin] We're talking about another Brutalist building here?
[Graham West] Yeah – pretty much the same period. It was designed in the '70s. And built in the '80s.
This one is red brick.
It's not a particularly pleasant building to look at. But internally, the spaces are fantastic.
It's got a waffle slab.
Sort of a waffle soffit to the spaces which is incredible.
It has the most unbelievable views over London.
[Tim Benjamin] Just to be clear, we're talking about International House for anyone who knows Brixton.
[Graham West] Yeah – it's an 11 story building fairly close to the Tube. Red brick. Slightly octagonal. It's basically a square with chamfered corners building in Brixton.
And you might never have noticed it. It's very close to Pop Brixton.
But it's one of those buildings that just blends into the background. And for all the wrong reasons.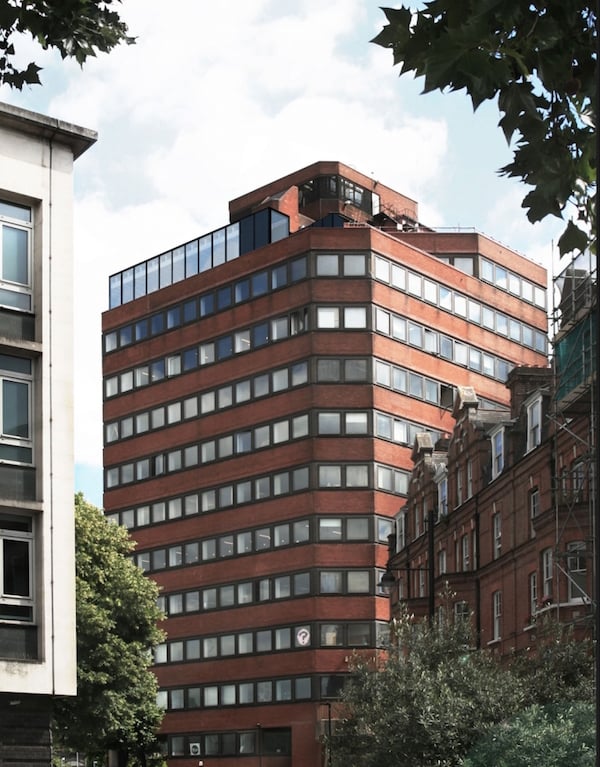 [Tim Benjamin] And at 11 stories, would I be right in saying that's one of the taller buildings in Brixton – if not the tallest?
[Graham West] I think it's currently the tallest.
There's one catching up which is probably residential.
There's a building going up at the moment which you can see from our building which will be taller.
And, in fact, there are tower blocks in the proximity that are taller than that as well.
But in the center of Brixton, it's the tallest.
Hence the views. It's incredible.
[Tim Benjamin] South London for anyone who doesn't know – very flat – located two or three miles south of the City of London and the West End.
And, presumably, if you're looking north towards those, you've got uninterrupted views?
[Graham West] Yeah – you look over tree tops and roof tops of houses for quite a long period of time and then, all of a sudden, it's the horizon of the City.
And then looking east, you see Canary Wharf.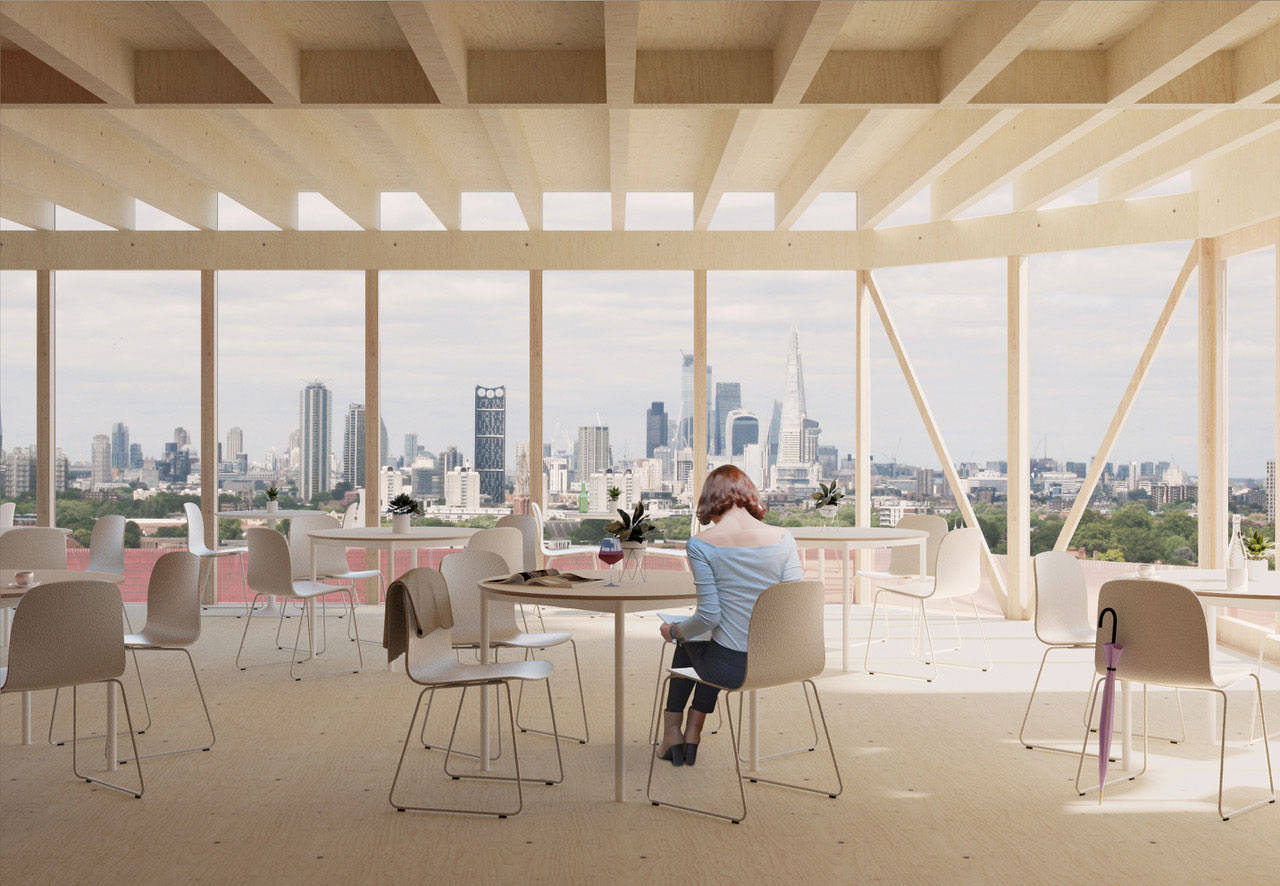 [Tim Benjamin] And at a design level, the building was designed in the '70s and built in the '80s.
What does one see when one goes in there now before works have actually commenced?
Is it essentially an '80s style fit-out?
[Graham West] There's not much of the fit-out left.
But it was very much an '80s style fit-out.
It's a central core with a floorplate that is continuous – with continuous ribbon windows for the entire 360 of the building.
It's just a continuous loop, basically.
That's our starting point as a blank canvass – about what we're going to put into it.
It's a great starting point with these beautiful soffits.
We're going to try to re-use as much of the services as possible.
It's potentially a four year project. It's potentially slightly longer.
But we're really conscious of not over-using materials by re-using as much of what's there as possible – partly because it's on the 10th and 11th floors and you've got to get everything up there.
But also just because we don't want to use stuff that only has a short life-span.
We're even looking at, in terms of furniture, maybe trying to avoid buying new furniture where possible. Something as basic as that.
But the fit-out – we really want it to be something that maybe is de-mountable.
Or has a low impact.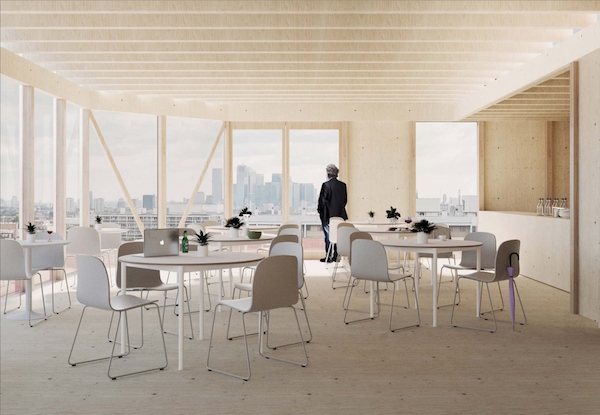 [Tim Benjamin] And is there a design aesthetic that you've mapped out for this space?
[Graham West] Honesty.
Just trying to do something that works.
If that's our starting point, it's not like we can turn around and say – yeah – we're going to do something that reflects the 1980s or 1970s aspect of the building.
There may be some very slight aspects of the design that people pick up on, but it's more about doing something that's as rational and honest as possible.
For example, the structure on the roof is literally 'what you see is what you get'.
It's the longest elements that we can get craned up in one go, put together, bolted together and exposed.
Because we're aware that everything is going to be exposed, we've tried to use connections that rely on gravity rather than spliced or bolted connections – because we don't want to see those splices or bolts.
It's literally beams propped on beams propped on columns.
It's very simple – with a glazed elevation that has as few interfaces and flashings – or fascias – as you can.
It's literally just a piece of glass that goes from the ground to the roof parapet.
Less materials.
Less interfaces.
But you have to get a very large piece of glass up there which we can do once.
[Tim Benjamin] You used the word 'honesty'.
Is that one of your guiding principals as a practice?
[Graham West] Indirectly it is because there's definitely a desire to do something in the simplest way possible that inevitably ends up being the most elegant solution by just distilling that element right down to what it really needs to do.
And just letting that be what it is.
And that's the beauty of that element – whether it's an element or detail or the project itself.
[Tim Benjamin] Why does that appeal to you?
[Graham West] Probably because of my background – going right back to how I got into architecture.
It's because I came through this detailing structural draughtsman route.
And I think I never managed to shake that. And I think it's still there.
It's almost like the opposite of an academic approach.
I didn't come from an academic background.
It's a very pragmatic approach to design.
[Tim Benjamin] Fascinating stuff.
Graham West of West Architecture, thanks very much for your time.
And thanks for coming onto the Floorplate podcast.
[Graham West] Thanks Tim – thanks very much.
Really enjoyed it.
Really enjoyed the conversation.
[Transcript ends]